Spiffy adj. – Smart in appearance; stylish

Smurfy adj. slang – to describe something as great, wonderful, and cool.
Aloha and welcome to Spiffy and Smurfy!  I'm Alethea, also known as Alley, the chica behind the blog. Spiffy and Smurfy is about celebrating all things girly, stylish, and pretty – and about Hawaii.
A tomboy at heart with no background in fashion, I started this blog to record my transition from soccer shorts and sneaker to skirts and stilettos. I am looking to get spiffy in a "smurfy" kind of way, by experimenting with makeup and personal style. Finding inspiration from my friends, surroundings, and glossy magazines, I am constantly learning about what "spiffy" means to me.
I have been inspired by many and learned many things. It is the mission of this blog to share experience and knowledge, inspire creativity to be spiffy and connect with others in true smurfiness.
Whether it's a new lipstick, vintage aloha wear or roaming around a street festival, you'll read about it here. Hopefully you'll feel inspired to get spiffy and be smurfy.
Are you ready to get spiffy?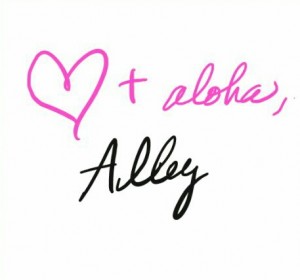 Want to get featured?  Let's collaborate!  I love to connect with new friends…